My Diary
08 May 2012
Kitty Campbell Goes Very Large!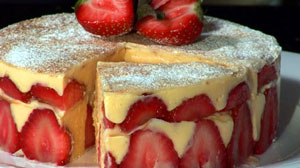 Hi Everyone,

Hope you all had a great Easter and didn't eat too many eggs of the chocolate variety. I know I had my fair share! For those of you who made it along to 'The Big Easter' at Paxton House I hope you all had an eggcellent day out!

Behind the scenes I have been busy working on product development and I am very pleased to let you know Kitty Campbell has expanded into Very Large eggs which can now be purchased in Tesco for £2.00, a great weekend treat.

Talking of treats I made this Strawberry and Vanilla Pancake Gateau last weekend. I like putting my cooking skills to the test with tasty recipes that the family and I can indulge in. I invite you to take up this challenge and treat your family and friends to this delicious summer gateau.

STRAWBERRY AND VANILLA PANCAKE GATEAU
Ingredients
3-4 Crepes (from crepe mix)
1 mix Pastry Cream
1 mix Italienne Meringue
1 punnet of Strawberries
CREPES
Ingredients approx. 6-8 thin, 19cm pancakes
250 ml Whole Milk (Semi skimmed milk can be used)
2 Kitty Campbell Free Range Eggs
115 grams Plain Flour
A pinch of Sugar
Method
1. Sieve the flour into a bowl
2. Mix the eggs with the milk.
3. Slowly – in a thin steady stream- pour the egg/milk mix into the flour whisking as you go all the time until everything is incorporated.
4. Pass this batter through a fine sieve. Chill for 20- 30 mins.
5. Heat your crepe pan or non-stick frying pan over a medium heat.
6. Lightly oil the pan and pour a thin layer into the pan swirling the pan so the batter covers all of the base.
7. When the pancake looks opaque turn it over and cook for approximately 1min.Turn out, cool and reserve.

PASTRY CREAM (approx. 200gm finish weight)
Ingredients
2 Kitty Campbell Free Range Egg Yolks
28 grams Caster sugar
10 grams Custard powder
116 ml Milk
½ split Vanilla pod
5gm Leaf Gelatin
Method
1.5gm Leaf Gelatin ( soak in cold water)
2. Boil the milk with the vanilla pod. Remove from the heat and infuse for about 5mins.
3. Whisk egg yolks and sugar together until pale. Add the custard powder and mix in
4. Return the pan to the heat and reboil.
5. Pour half of the milk onto the egg yolk mix and stir in, then return to the heat to reboil.
6. Stirring all of the time bring the mix to the boil over a medium heat for about 2mins.
7. Squeeze the soaked gelatine into the warm mixture.
8. Add to the mix whilst still hot. Stir in then sprinkle with a thin layer of sugar and reserve till tepid..
ITALIENNE MERINGUE
Ingredients

90gm Sugar
25ml Water
45gm Kitty Campbell Free Range Egg Whites
Method
1. Boil the sugar and water
2. When boiling, start to whip the egg whites on 2/3 speed.
3. When sugar and water has reached 121c pour in a thin stream down the side of the bowl onto the meringue whisking all the time.
4. Once all the syrup has been added keep whisking on medium speed till tepid.
5. Make a band with cling film and line a ring approx. 4.5cm deep and place onto a cake board.
6. Fold the meringue into the pastry cream carefully.
7. Place first pancake into the ring then a layer of pastry cream
8. Place a layer of fruit onto the cream. Level with a little more cream. Place a crepe on top making sure it is level.
9. Repeat the process.
10. A third layer can be made as long as it is not over 4.5cm deep.
11. Chill over night or set in the freezer for approx 30-45mins.
12. When serving dust with icing sugar. Dip your knife into a jug of hot water each time you make a cut.


06 April 2012
'The Big Easter' at Paxton House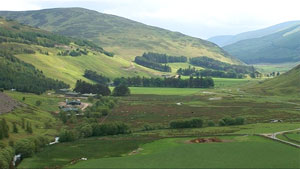 Why not come along to 'The Big Easter' at Paxton House this Sunday, 8th April, from 11am till 4pm. Kitty Campbell Free Range Eggs are sponsoring this event which will be an eggcellent day out for all the family with lots of Easter activities including:
1,000 (mini) Easter Egg Hunt
Egg Roll races with Paxton Ted
Egg decorating competition
Easter bonnet decorating and Easter parade
Prizes and goody bags
Face painting
For a fun filled day make your way to Paxton House, Berwick Upon Tweed, TD15 1SZ. Entry will be Children £2, Adults £5, Family - £13.
See you there!
Happy Easter.
Kitty


13 March 2012
Celebrating Mum!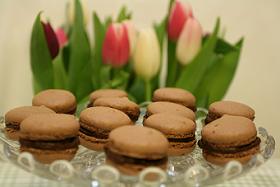 Hi Everyone,

Since the EU regulations came into force on 1st January 2012 eggs continue to be in demand; I have been trying my hardest to keep my hens healthy and happy to ensure you can continue to enjoy some of the best British eggs on the market!

Last week my sister Amy attended the Scottish Egg Producers Conference on organic and free range eggs. Talks centred on the current state of the British egg market; she came home reassured free range eggs are in high demand. Amy was also chuffed she met her Sunday night hero Adam Henson from Countryfile who was one of the guest speakers at the conference!

Remember this Sunday, 18th March is Mothers Day! My Uncle and I have come up with a special recipe to satisfy any mums who have a sweet tooth - Chocolate Macaroons with a Raspberry Surprise; they will not fail to impress!
Kitty's Chocolate Macaroons with a Raspberry Surprise

Kitty's tips: separate the egg whites up to seven days in advance and rest in the fridge. Make the macaroons a day in advance to allow the flavours to infuse into the macaroon shell.

Ingredients

180g ground almonds




200g icing sugar




30g coco powder




80ml water




200g caster sugar




2 x 80g egg whites
Chocolate Ganache

Method

250g dark chocolate broken into pieces




200ml whipping cream




70g butter cut into small cubes




1 pack of raspberries
Mix the icing sugar and ground almonds together until you have a fine even powder. Sieve and set aside.

In a saucepan, bring the water and the caster sugar to the boil. Use a thermometer to ensure that the temperature does not exceed 110°c.

Whisk half the egg whites until they form a soft peak but not too stiff.

Decrease the speed of the whisk, then, still whisking, pour the sugar syrup slowly and thinly down the side of the bowl into the egg white until the mixture has almost cooled; this will take a while and will be easier in a food processor or using an electric hand whisk.

Mix the other half of the egg whites (unbeaten) with the sugar and almond base to get a thick paste.

Add a quarter of the meringue to the almond paste with a flexible spatula and stir in with regular motions from the bottom to the top and from the edges towards the centre of the bowl. Repeat this process adding a quarter at a time until the meringue mixture is fully mixed in with the almond paste. Fill a piping bag with the macaroon mix and pipe small even discs of the mixture on to a tray covered with greaseproof paper. Lightly tap the bottom of the tray on the work surface to remove any small air bubbles. Put the tray aside for 30 minutes to allow the shell to dry.

While the shells are drying make the chocolate ganache. Place the chocolate in a mixing bowl. Bring the cream to the boil, pour over the chocolate and mix until the chocolate has melted and mixed with the cream. Add the butter to the mixture. Stir until the butter has melted. Leave to cool at room temperature.
After resting the macaroon shells for 30 minutes bake in a preheated oven for 13 minutes at 145°c (fan oven 125°C), gas mark 1 ½.

Immediately on taking the macaroon shells out of the oven, slide the greaseproof paper onto a lightly dampened work surface. This will stop them over cooking and make them easier to remove from the paper.

The shells should be glossy and smooth.

With a piping bag fill half the shells with ganache place a raspberry in the middle of the shell then sandwich together with the remaining shells.

Hopefully your mum will enjoy them as much as my mum!

Kitty


17 February 2012
Pancakes Pancakes Pancakes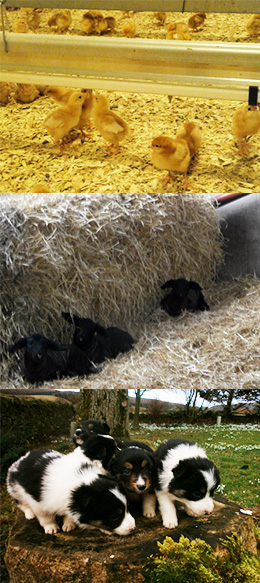 Hi Everyone,
Say hello to you our latest arrivals on the farm including these baby chicks which will eventually lay some delicious Kitty Campbell eggs! They're not the only ones stealing the limelight just now. The Suffolk sheep have started lambing, with a set triplets being born yesterday! I decided to call the lambs Kitty, Amy and Lorna after my sisters and I. Adam's dog has also had a litter of pups, and can only be described as a bunch of fluffy rascals that enjoy nothing better than being fed! They're definitely not camera shy!
Tuesday the 21st of February is PANCAKE DAY so make sure you stock up on Kitty's eggs!! I thought I would help you out with a recipe that guarantees lip-smacking pancakes every time! I enjoy my pancakes filled with vanilla yogurt, fresh strawberries, raspberries, blueberries and a drizzle of honey.
Kitty's Pancake Mixture
110g plain flour
salt
2 Kitty Campbell Eggs

200ml semi-skimmed milk
50g butter, melted
Enjoy your pancakes.......
Kitty


16 December 2011
Season's Greetings!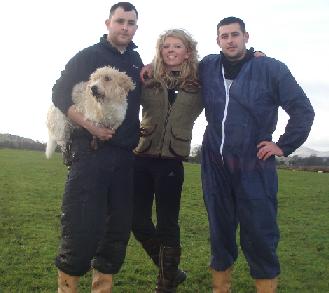 I hope you have all entered into the Christmas spirit! I managed to fit in some late night shopping last week and relaxed afterwards with a nice big mince pie. I got Geordie a tasty bone and a squeaky toy which will keep him amused. Next job is to decorate the Christmas Tree and wrap my Christmas presents.
It is always a busy few weeks in the run up to Christmas and New Year so the Kitty Team are all working very hard. On the left you can see me along with three valuable Kitty team players; Darren, Geordie and Tomasz. Darren and Geordie are great friends! Darren often gives Geordie a cheeky corner of his sandwich at lunch time! Tomasz has been busy making sure the scratching areas are nice and soft by raking the shavings to make it easy for the hens to scratch and dust bath.
We had our first scattering of snow the other day; the hens were not so keen to go exploring that day, most of them were perching in the shed or snuggling up in their cosy next boxes.
Remember, don't forget to treat yourself to some Kitty Campbell eggs for over the festive period. Why not indulge in eggs benedict for breakfast, omelettes for brunch or melt in the mouth meringues for dessert. Go on spoil yourself.
Wishing you a Merry Christmas and a Happy New Year.
Kitty