My Diary
03 April 2011
Getting Ready for the Baby Chicks Coming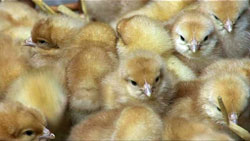 Hello, things are very busy down on the farm. This week I have baby chicks arriving and I am busy getting the rearing house clean and in pristine condition. I'll then disinfect it, as it has to be spotless, just like a maternity ward.
Once it's all spick and span, I'll set up the feed tracks and water drinkers, then it's down with the fresh wooden shavings, which always give off a wonderful smell. The feed has been ordered and believe you me the price is through the roof!
Two days before the chicks arrive and it's time to turn on the gas heaters. My shed has to be at 93 degrees before the chicks arrive – hot stuff – who needs to go abroad for the heat!!