My Diary
19 May 2011
Cuckoo's, Chick's and Pup's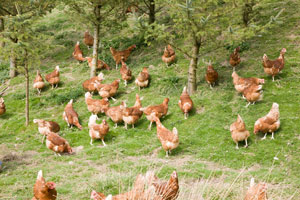 Hi, A month on and the farm is looking great. The neighbourhood cuckoo returned at the end of April which heralds the arrival of spring, which is music to everyone's ears! Every year we have a family competition to see who can hear the cuckoo first; this year it was Mum who won.
The baby chicks have settled into their rearing shed and are doing well. This is one of the nicest, most heart-warming sights you will see.
My family have also been very busy lambing for the last 8 weeks, here in the beautiful Scottish Borders. Everyone is very pleased how the lambing has gone and the weather has been fantastic throughout, which is always half the battle. The parks are now full of lambs enjoying the lush green grass.
My collie dog, Biz, is also preoccupied. She had 5 pups two weeks ago. At the time I wasn't too popular, as my father was depending on Biz to give a helping hand with the sheep at lambing time. Never mind, accidents do happen! Anyway, the unexpected arrivals are very cute and have just opened their eyes.
At the moment I am busy getting our stand organised for Tesco's Enjoy the Taste of Scotland event (a platform for Scottish producers) to be held in George Square, Glasgow on Saturday 28th May and Sunday 29th May. It'll be open from 10.00am - 5.00pm on Saturday and from 10.30am -5.00pm on Sunday. This is my first time hosting a stand so fingers crossed everything goes well. So if you are passing please pop in and say 'hello'.


03 April 2011
Getting Ready for the Baby Chicks Coming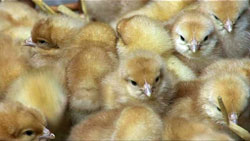 Hello, things are very busy down on the farm. This week I have baby chicks arriving and I am busy getting the rearing house clean and in pristine condition. I'll then disinfect it, as it has to be spotless, just like a maternity ward.
Once it's all spick and span, I'll set up the feed tracks and water drinkers, then it's down with the fresh wooden shavings, which always give off a wonderful smell. The feed has been ordered and believe you me the price is through the roof!
Two days before the chicks arrive and it's time to turn on the gas heaters. My shed has to be at 93 degrees before the chicks arrive – hot stuff – who needs to go abroad for the heat!!