My Diary
14 September 2015
Harvest 2015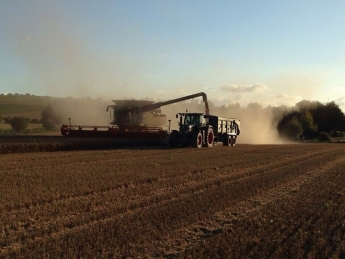 The last few weeks we have been busy with harvestig the chickens feeding. The team on the farm have been cutting the wheat which all goes into their feed. It is a busy time on the farm getting the best quality wheat for my hens when the sun is shining :).

19 March 2014
Orchard of Snowdrops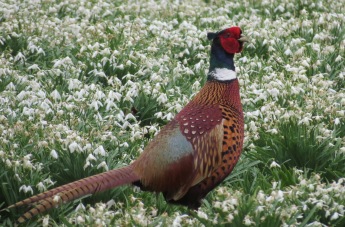 Hi Everyone,

This morning I found this handsome pheasant parading in the orchard of snowdrops.
Kitty


16 March 2014
Sunday Brunch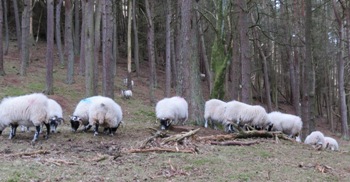 Hi Everyone,
Thought I would share a picture of me feeding the sheep this morning.
Lambing time is fast approaching its important to keep the female sheep in good health to ensure they deliver happy healthy lambs.
Hope you are all enjoyed your Sunday brunch as much as my sheep did!
Kitty

09 March 2014
Kitty Hits The Road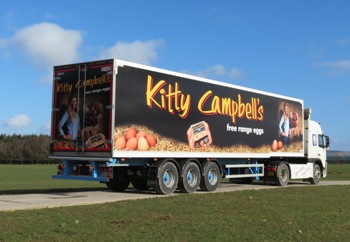 Hi Everyone,

Hope you all enjoyed making your pancakes and managed to flip them without them falling on the floor!

Thought I would share with you a picture of our new lorry which will be delivering Kitty Campbell eggs to your local supermarket. So keep an eye out for me on the road!
Kitty


13 February 2014
Kitty's Valentine Surprise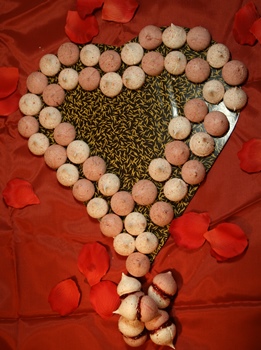 Hi Everyone,
I have been whipping up some sweet treats in the kitchen.
I have attached the recipe so you can have fun creating your very own raspberry meringue heart!
With Love
Kitty
Raspberry Meringue Recipe

60 g egg whites
90 g caster sugar
30 g icing sugar
20 g raspberry powder ( optional )
Red powder colour
Red caster sugar for dusting
PRE HEAT OVEN & 98c

METHOD

MAKE RED CASTER SUGAR BY MIXING RED POWDER & SUGAR TOGETHER TO LIGHTLY DUST THE MERINGUES. RESERVE
START TO WHIP EGG WHITES SLOWLY
WHEN FROTHY INCREASE SPEED & ADD A LITTLE CASTER SUGAR
KEEP DOING THIS , GRADUALLY INCREASING THE SPEED EVERY TIME.
WHIP TO A STIFF MERINGUE
MIX RASPBERRY POWDER ( IF USING) & ICING SUGAR TOGETHER
STIR INTO MERINGUE
PIPE ONTO SILICONE PAPER INTO BULBS APPROXIMATLEY 1cm ACROSS
DUST WITH RED SUGAR
DRY IN OVEN FOR APPROX 11/2 HRS OR UNTIL DRY
HALF WAY THROUGH DRYING TURN THE TRAY AROUND
ONCE COOKED & COLD STORE IN A N AIR TIGHT BOX