About Me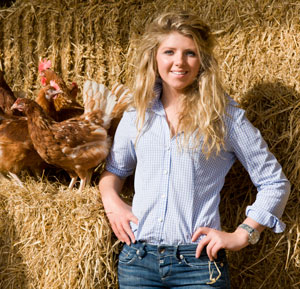 Kitty Campbell
Hello, I'm Kitty. My family and I live in the Scottish borders amongst the beautiful rolling hills of Manor Valley. We're a hen family through and through and have been for as long as I can remember. In fact I'm the third generation of family farmers, but it's not just hens, we've got cattle and sheep too.
Growing-up around farming with my two lovely sisters Amy and Lorna was great, apparently I even used to try and feed the pet lamb from my pram – talk about starting young!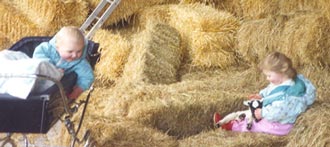 Me in the pram and my sister with the pet lamb.
Caring for hens is a family tradition and my grandparents and parents taught me everything I know. From the first time I was introduced to the fluffy baby chicks I was hooked and I've been looking after them lovingly ever since.
My hens and I are very lucky, there's no long commute for us, just a 5 minute walk in my wellies with my dog Geordie along a picturesque path. The walk's lined with heather hills and pine trees and there's even a little stream along the way so it's little wonder I usually get to work with a big smile on my face.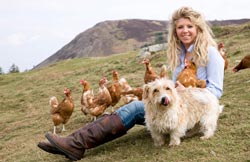 Geordie and me with some hens.
When I get to the hen house all my hens rush to say hello while I make sure they've got plenty of fresh water and feed. After Geordie and I have said 'good morning' it's time to see what the hens have laid for me. I collect the eggs twice a day and let the hens out to enjoy the countryside after my first collection. There's nothing they love more than roaming the hills and they get so excited in the morning that they burst out of the hen house and fly all over the place.
My day comes to an end when I put all the hens to bed. In the summer months they like to stay up late, they're very stubborn and won't go to bed until they've had all the daylight they can.
My hens need me to care for them seven days a week all year round and they don't understand bank holidays. Looking after them is a lot of work but I love it. So with the support of my two sisters we can occasionally have time off at weekends – Young women should have a social life as well as a strong work ethic!
If you want to hear more about the goings on at the farm keep a look out for my diary updates and join my newsletter.