About The Family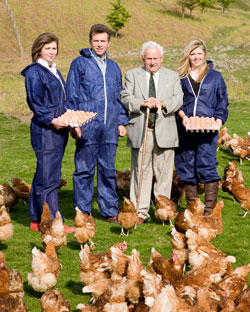 Three generations of Campbell's.
The first thing you should know about my family is that we are passionate about farming. My grandmother, Kathy Campbell, started the poultry farming side of things way back in 1957 long before I was even born. At the time the overdraft on the farm was crippling and so my grandparents needed to make some money more quickly than they could from sheep and cattle. Hens were the answer; Granny raised some chicks from a day old until they were ready to start laying eggs, which is when she sold them.
We still rear our chicks in the same way now but they are reared for my hen houses. By rearing the hens from a day old I can be sure that my hens are fit and healthy and of the best possible quality. We are monitored by Freedom Foods (RSPCA) and have annual audits.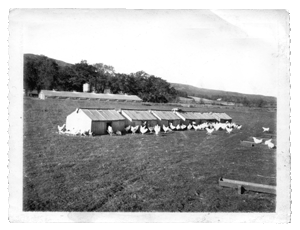 The original hen coups.
While I'm the egg side of the farm my mum and dad work with the business and livestock. My parents are never happier than when they're talking shop or with their cows and sheep – just like me with my hens. They're very enthusiastic about their animals and work everyday with commitment and determination and are always around to offer me advice, and to 'share their wisdom' – their words not mine.
It's great to have such a wonderful background with so many people around to nurture and advise me, especially during all the excitement of developing my Kitty Campbell egg brand. With their support I want to provide you with the most healthy, wonderful and delicious eggs I can.
I hope you like them!